Upcoming Workshops at
La Casa de Maria Retreat & Conference Center
800 El Bosque Road, Santa Barbara, California 93108
Shawne@lcdm.org • 805.969.5031
www.lacasademaria.org
Capacitar: Wellness Education in Healing & Transformation
(60 CEUs)
4-Part, One Year Training 2014
Module II: June 27 - 29
Friday, 4pm – Sunday, 1pm
Become a certified practitioner through this educational series of training in experiential and holistic healing modalities. Sessions will include Tai Chi, meditation, polarity, chakra theory, acupressure protocols, energy healing, simple massage and breath work. If your work serves individuals or groups in need of healing, this is invaluable training. 60 CEU credits for MFT and LCSW are available.
Module III: September 12 - 14;
Module IV: November 7 - 9
Pat Cane, PhD, is the founder of Capacitar International. She has been teaching this holistic educational training for over 20 years in more than 14 countries.
Each Module: $400 Resident. Commuter: $300.
Some scholarships available. Inquire with Registrar. Participants must subscribe to the full series.
---
The Institute of Integral Qigong & Tai Chi (IIQTC) will host a
Primordial Qigong Immersion
September 21-26
@ La Casa de Maria, Santa Barbara
Primordial Qigong is considered one of the most powerful forms of Qigong, and is perfect for both beginner and advanced Qigong practitioners.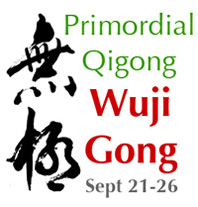 More Qigong Workshop info.